Do you have a book inside you that's dying to come out? Join me in Cape Town for a magical 10 days to jumpstart your book! From February 1 – 10, 2020, you'll have everything you need so you can focus on your writing: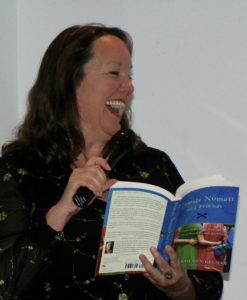 • Private room with your own bathroom
• Hot buffet breakfasts and themed buffet lunches
• Morning accountability sessions where we'll dispel our writing blocks
(To get a sneak-peak, check out my free video "15 Steps to Beat Writer's Block" at JumpStartMyBook.org – We'll tackle issues like Imposter Syndrome, perfectionism, and "lack of focus.")
• 5 focused 3-hour master classes where we'll drill down on structure, story development, and other skills to hone our writing
• Private 1-on-1 coaching sessions where you and I will work through your specific conundrums
• Airport welcome and taxi to the guest house
Plus, we'll celebrate and explore Cape Town's richness with these evenings:
• Welcome cocktail reception with pop-up boutique of local crafts
• Walking wine-tasting tour with food pairing led by a professional wine guide
• Cooking class
• Jazz performance at The Crypt, the underground basement beneath the church where Desmond Tutu preached (and where he offered sanctuary to black activists during apartheid)
• Farewell dinner at a traditional South African restaurant that serves Xhosa dishes such as crocodile, sheep's head, kudu, ostrich (vegetarian options available, too) …and dancing to live tribal music!
You'll leave with an invigorated manuscript and the inspiration to see your book published!
Head over to JumpStartMyBook.org/writers-retreat/ for more details and tantalizing photos!
---
Kelly Hayes-Raitt admits she sleeps around. Usually with animals.
As a full-time housesitter and traveler for the past decade, she's learned a thing or two about housesitting and shares her knowledge and experience in her popular book How to Become a Housesitter: Insider Tips from the HouseSit Diva available in soft cover or Kindle at Amazon or ebook on her HouseSitDiva website.
Before nomading, Kelly reported live from Iraq during the early weeks of the U.S.-led invasion. Her journalism has won several literary awards and has been widely published in anthologies.
Lately, she's turned her energy toward helping other writers get their books jumpstarted. Her coaching clients call her "inspiring," and students in her workshops rave about her unique teaching techniques. Learn more about working one-on-one with Kelly at JumpStartMyBook.org.
Or join her in Cape Town, South Africa, February 1 – 10, 2020, for a magical writing retreat to jumpstart your book! JumpStartMybook.org/writers-retreat/