August 2019 – "Not all of us can do great things," Mother Teresa wrote. "But we can do small things with great love."
I don't live by that nearly as much as I aspire to.  But housesitting gives me an opportunity to do a small thing for pet owners with great love.  My favorite thing about housesitting is that it allows me to share the gift of travel with pet owners who might otherwise feel homebound.
Housesitting also takes me to some pretty interesting parts of the world.  After housesitting all summer in Réunion, a French island in the Indian Ocean just east of Madagascar, I decided to spend a two-week break traveling in Madagascar.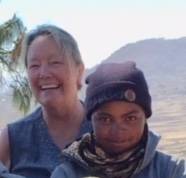 It was there that I met Zoziane.  She's one of the hordes of dusty children who descended on me at every tourist stop selling whatever is popular in the nearby village….In her case, it was polished stones.  She stood out, though, with her crisp English and confidence.  (I really admire English-learners;  it's a lot of work and discipline!)
I asked her if she wanted to join my guide and me in our car to ride to the top of the plateau overlooking Titriva Lake.  She grinned and jumped in.
She is 14 and wants to be a National Tour Guide, like Arséne, my 35-year-old certified and trained guide.  He told her to study hard and to keep practicing her English.  She couldn't stop grinning.
She gave each of my questions careful consideration before answering.  Sometimes she responded, very seriously, "I need to think about that."
Her school costs 20,000 Ariarty per month (about $5 USD), a small fortune for many families.  There's so much poverty in Madagascar – throughout Africa.  It's overwhelming.  And it's hard to know how to help.  I don't want to be culturally or economically patronizing or create an expectation of hand-outs.
"Never worry about numbers," Mother Teresa wrote.  "Help one person at a time and always start with the person nearest you."
After we left, I asked Arséne:  Would it cause a problem for her family or other siblings if I gave her some money for school?  He assured me it wouldn't and that he'd be happy to deliver an envelope to her mother the next time he was in that village.
Here's his video handing Zoziane my envelope and personal note.  It made me tear up.  …And feel small.  For the cost of a latte at Starbucks, I could support a student's education for a month.
Or, I could pay more attention to the person right in front of me.
This was a tough blog to write – so personal.  I'd love to hear your reaction in COMMENTS below.  Thanks for reading!
---
Kelly Hayes-Raitt admits she sleeps around.  Usually with animals.
As a full-time housesitter and traveler for the past decade, she's learned a thing or two about housesitting and shares her knowledge and experience in her popular book How to Become a Housesitter:  Insider Tips from the HouseSit Diva available in soft cover or Kindle at Amazon or ebook on her HouseSitDiva website.
Before nomading, Kelly reported live from Iraq during the early weeks of the U.S.-led invasion.  Her journalism has won several literary awards and has been widely published in anthologies.
Lately, she's turned her energy toward helping other writers get their books jumpstarted.  Her coaching clients call her "inspiring," and students in her workshops rave about her unique teaching techniques.  Learn more about working one-on-one with Kelly at JumpStartMyBook.org.
Or join her in Cape Town, South Africa, February 1 – 10, 2020, for a magical writing retreat to jumpstart your book!  JumpStartMybook.org/writers-retreat/