# of nights housesitting in Richmond: 27 (during Sept '19)
# of plays: 3
# of dance performances: 1
# of chamber concerts: 1
# of rock concerts: 1
Private museum exhibit: 1
TOTAL: £120 (less than $150!)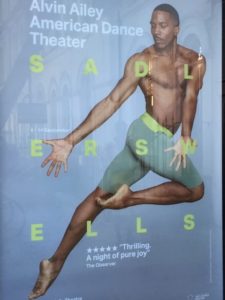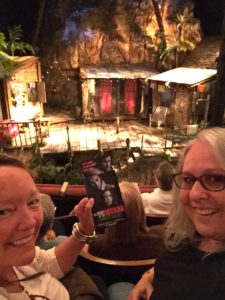 Highlights:
2nd row seat to an Alvin Ailey dance performance. This powerful dance company never fails to move me to tears. At one point, a group of dancers were simulating being lynched: on their toes, heads lolling, arms flailing and bodies gently swaying.
John Malkovich and Clive Owen on stage in David Mamet's Bitter Wheat and Tennessee Williams The Night of the Iguana, respectively.
Front row seats at a unique David Hare play about the privatization of British Rail – very political, very emotional, as it delved into recent rail accidents. But here's the kicker: The small in-the-round theatre (The Vaults) is under Waterloo Station, so we could hear trains passing overhead during the performance!
Private viewing of the iconic Throne of Weapons sculpture, which is currently off-exhibit at the British Museum. I'm working on a piece about Bonaventura Zita, who started collecting AK-47s from villages in Mozambique caught up in the civil war. He traded guns for ploughs and sewing machines. He gave the guns to artists who created a series of sculptures from them.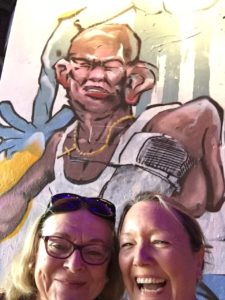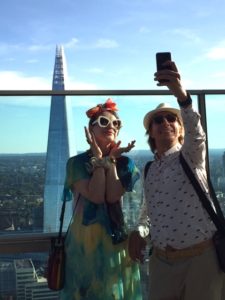 I have two secrets for exploring London so cheaply:
TodayTix app offers discounted tickets for upcoming and day-of-performance shows. It's also a great resource for discovering some off-the-beaten-path theatres.
Internations.org. This international organization of expats has a particularly robust chapter in London with several subgroups. I belong to the World Music group, the Closet Writers group and the Live Theatre & Music group. Through them, I take advantage of group discount prices – and I meet some really interesting people from around the world!
Plus, I enjoyed 10 meet-ups with friends – Priceless!
…I even wrote a book:
Jump Start Your Book
Practical Tips for
Harnessing Cutting-Edge Brain Science to
Beat Your Writing Blocks and
Unleash Your Creativity
…available soon at www.JumpStartMyBook.org.
What a fabulous month!
What tips do you have for London culture vultures?
---
Kelly Hayes-Raitt admits she sleeps around.  Usually with animals.
As a full-time housesitter and traveler for the past decade, she's learned a thing or two about housesitting and shares her knowledge and experience in her popular book How to Become a Housesitter:  Insider Tips from the HouseSit Diva available in soft cover or Kindle at Amazon or ebook on her HouseSitDiva website.
Before nomading, Kelly reported live from Iraq during the early weeks of the U.S.-led invasion.  Her journalism has won several literary awards and has been widely published in anthologies.
Lately, she's turned her energy toward helping other writers get their books jumpstarted.  Her coaching clients call her "inspiring," and students in her workshops rave about her unique teaching techniques.  Learn more about working one-on-one with Kelly at JumpStartMyBook.org.
Or join her in Cape Town, South Africa, February 1 – 10, 2020, for a magical writing retreat to jumpstart your book!  JumpStartMybook.org/writers-retreat/