It's that time of year again – Thanksgiving is approaching, with Black Friday and the start of the holiday shopping season right on its heels.
You sit down to make your list, finding yourself falling back on the old reliable gifts:
Sis gets a new scarf.
Brother gets a gift card for the movie theater.
Mom gets a new bottle of her favorite perfume or a book.
And Dad? Dad's easy – a necktie.  Just like every year, right?
What if this year, you gave Mom and Dad the seeds to grow a new dream, instead of the same old gifts? Something they can use to experience new cultures, meet new people, try new foods and learn new things – like the gift of travel! Dad can learn a new language and Mom can shop in markets she's never seen before. They can learn about the local music and dining scene, and maybe even develop an interest in photography, hiking or beach combing.
And you? You get the credit for introducing them to all of this! I call that a win-win.  So how do you go about sending them off on this adventure?
Well, you could book with a travel agent, send them on a cruise, or book a tour through a tour company – but those are such generic options – and your parents are not generic folks. You want to do something unique and unusual for them. So here's what you do:  you buy them a book.
No, I'm not kidding – a book. Specifically, a book about travel to exotic locales, animals, meeting new people, and staying in beautiful lodgings – all while saving money on the whole thing!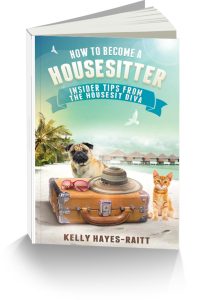 "How to Become a Housesitter: Insider Tips from the Housesit Diva" by Kelly Hayes-Raitt has just hit the Amazon Travel category, and it's a huge hit! Kelly believes travel can be transformative to both the travelers and the people they meet along the way – that's why she's been doing it for years, herself! Kelly spends time every year watching over Cha-Cha, a Pit-Lab rescue dog who lives in a beautiful home overlooking Lake Chapala in Mexico, and has learned over the years that house sitting can be the key that opens doors to traveling the world, experiencing new cultures and learning all about them while staying in beautiful homes, rather than hotels, motels or hostels. While house sitting, you can take day trips, walk on the beach, check out the local dining and music options, meet new friends and even maintain your online business or writing career while visiting new and exciting places!

Daily Deal Coupons, a website devoted to saving money on deals from sites like Groupon has featured "How to Become a Housesitter: Inside Tips from the Housesit Diva" on their Top Gifts of 2017 list, along with many other unique holiday items that will help you mark off every gift on your list – and you won't be stuck buying the same old gifts!
Happy Holidays, everyone!