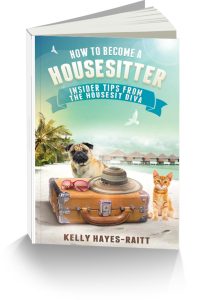 Reviewed By Margaret Ann Porter
El Ojo Del Lago, Lake Chapala, Mexico
As a testament to creativity being at the heart of resilience, author Kelly Hayes-Raitt introduces us to 'housesitting' in her book: How to Become a Housesitter:  Insider Tips from the HouseSit Diva (129 pages, Living Large Press, launching on Amazon at a discount on November 16, 2017)
Kelly offers steps on how to become a housesitter; introduces best practices for assuming the responsibility; and shares travel-savvy ideas of how to enjoy  while thus engaged. Interspersed throughout the book are stories about her adventures in house-sitting that are humorous, delightfully shocking, and educational.
The book presents the simple idea of an exchange in the 'gig' economy, whereby pet owners engage a housesitter to care for their home and pets while they are away.  Typically, homeowners cover all the household and pet care expenses while the housesitter enjoys the home and surroundings for free.  Although some housesitters are paid, it's usually a quid pro quo and no money exchanges hands.
The idea to become a fulltime house-sitter occurred to Kelly after she ended a long career in politics. A campaign and legislation consultant, she had suffered disappointment in her bid for a seat in the California State Assembly. While reflecting on dashed hopes, Kelly decided to make a wholesale change: She resigned from politics and launched a second career as a writer and journalist.
She's now the author of foreign affairs articles, most especially those involving her time in Iraq and Syria working with refugees; she has a memoir in-process inspired by her experiences in those two countries. She also writes columns on her travels for US and Mexican periodicals.
While pursuing journalism in the far corners of the world, Kelly schedules housesits in locales that interest her; these provide her time to focus on writing books. The reality is that the lifestyle has its costs – airfare, food, personal needs – and she's found a way to offset them.
"I own a home in Santa Monica, where I can't afford to live while pursuing my writing career. I rent it out while I travel fulltime," Kelly explains, and winks, "So it's all true – I sleep around, usually with animals."
How to Become a Housesitter: Insider Tips from the HouseSit Diva has an ethical focus because the lifestyle has strong service and accountability elements to it.
"Most importantly, do not housesit if you aren't able to put the pets' needs and household duties before your sightseeing," she implores. "Housesitting is often glamorized as a free way to see the world – and it can be.  But it comes with huge responsibilities that the housesitter must be up for." She says it also helps if you adore animals, as she does.
With housesits accomplished in Berlin, Amsterdam, Hanoi, Osaka, Kuala Lumpur, Singapore and Maputo, Mozambique, Kelly has numerous requests for return engagements. She spends half of each year at a recurring housesit in Ajijic, Mexico, in a four-story house with panoramic views of Lake Chapala where she spoils Cha Cha, the rambunctious pit/lab rescue that she's helped to raise over the last eight years.
"Traveling is transformative – not only for the traveler but for all the people you meet along the way," Kelly says. "Now more than ever, we need to open our hearts and homes to each other.  Housesitting is one way to expand traveling opportunities, so I want to shout it out to the world!"
In this smart, well-written book, she shouts it quite well. Not only is How to Become a Housesitter: Insider Tips from the HouseSit Diva a practical guide, but it has an amiable 'voice' and comprises an enjoyable read for anyone who loves to travel.
http://www.chapala.com/elojo/index.php/november-2017/220-articles-2017/november-2017/3958-new-book-from-the-house-sit-diva